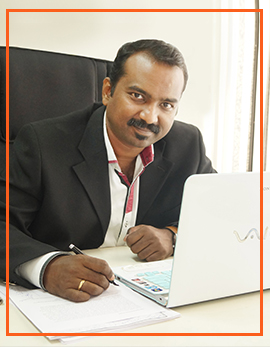 Mr. Job Cornelius
CO-FOUNDER & MANAGING TRUSTEE
A visionary at heart, Job Cornelius established Children of God Foundation in 2006 with a unique vision to educate, rehabilitate and transform the young lives on the streets of Mumbai
With a desire to see societies transformed and impact the lives of these children the "step-in" centres at COGF were initiated by the dynamic management team of the foundation. Services such as informal education, community development through advocacy, basic medical assistance, life skills training and counselling were made accessible to them in the streets and at the foundation.
Job is driven, persuasive and result oriented. He holds a post graduate degree in Diploma in Management studies and Masters in Financial Management from K. J. Somaiya Institute of Management Studies and Research summa cum laude.
Bitten by the entrepreneurial bug, Job Cornelius founded Trinity Global Services in 2007 with a sharp focus on fund-raising for corporates. In March 2014, buoyed by his success in this venture, Job diversified into integrated Digital Communications with a plethora of services in Media and Public Relations, Digital Investor Relations, Financial Advertising and Business Analysis.
He is also the Managing Director: Trinity Foods and Entertainment Pvt. Ltd., Managing Partner: Jeremy Infrastructure LLP, Producer: Logos Enteratinment and Productions, Publisher: www.winningbizzness.com
In his spare time he likes to spend time with the children at the foundation and helps facilitate creative workshops for street kids in MUMBAI.